Today's Store Spotlight takes a little jaunt over to  South End in Boston to peek inside SAULT New England! Owner Philip Saul curates a great selection of vintage and classic lifestyle and gifts items that blur the line between want and need (just look at those displays!). We also recently worked with Philip to create an exclusive custom New England Maptote for his shop! Read on to hear more about SAULT and what the South End has to offer:
Q: Who are the owners/operators and when did your store open?
A: I'm the owner, Philip Saul. It still feels odd saying that. The shop opened in the fall of 2011 so its coming up on 3 years.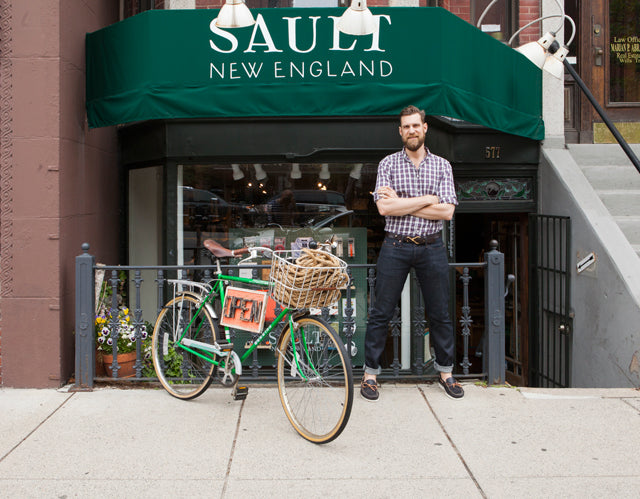 Q: How would you describe your store aesthetic?
A: The aesthetic for SAULT New England is classic but not stuffy. Its casual and a bit rumpled. We don't take life so serious, after all its retail. The shop is a good mix of clothing, accessories, personal care and a curated gift assortment. I like to keep the store evolving with new displays, new art, new fixtures. What you see the shop looking like in the summer is not what you will find at holiday.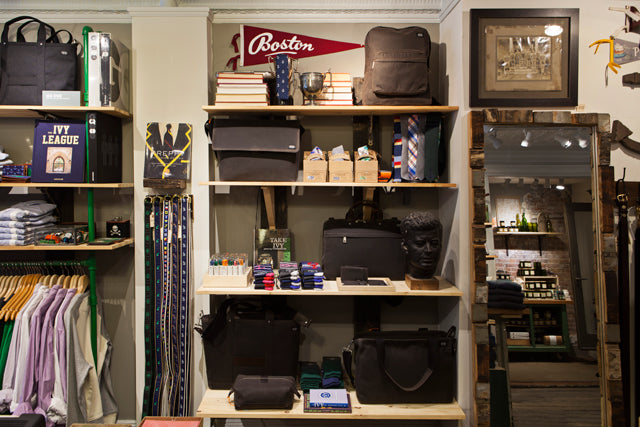 Q: What was your inspiration/motivation to open your store?
A: I'm a very visual and creative person: inspiration comes from everywhere. The hardware store, a found piece of furniture, a old book cover, or even a trip somewhere in New England. I guess my motivation is making a the space work and look good. I'm most content when I'm merchandising the product and creating a window or merchandising the floor. Its very satisfying when it all comes together to make a cohesive statement.. Oh and customers buy it!
Q: If there is one thing someone "must do" when they visit your area, what would you recommend?
A: Boston is a tourist city for sure! Its filled with so much history and great neighborhoods. Its a walking city so be prepared. My favorite neighborhood to visit is the South End, It's where SAULT is located and where I live so I'm a bit biased. It has some of the best independent shops in the city and its packed with amazing restaurants.
Q: What blogs/magazines do you follow?
A: I don't have a ton of time on my hands. I find Instagram to be a great outlet to look for inspiration and I follow blogs like Selectism, Esquire… the usual. When I do have time to page through a magazine its usually Elle Decor, GQ, and Details.
Q: What's next for you/your store? Any upcoming sales/events?
A: I'm really looking forward to getting our on-line shop up and running. Its been a daunting task but feel its the right direction for us to grow the business and get the SAULT brand accessible everyone who cant make it into the shop. The on-line shop will be a more edited collection of our seasons best products.
*Photos in this post provided by Emil Cohen
Tags: boston, maptote, retail, sault, sault new england, south end, stockist, store, store spotlight