The London Summer Olympics are right around the corner and here at Maptote we couldn't be more excited! Although we are always fans of the more classic Olympic events; this year we've decided to expand our horizons and explore some of the lesser known events – and we are so glad we did!  Below are the top five sports that we will be following throughout the 2012 London Olympics:
1) Modern Pentathlon: The Modern Pentathlon is my personal favorite. It combines five of the possibly most random disciplines into one ultimate event. It takes place over the course of a single day where the competitors begin with fencing, continue onto swimming, then compete in show jumping while on an *unfamiliar* horse, and end the day with a 3km run throughout which they must shoot at – and successfully hit – 5 targets. READY…SET….GO! First to cross the finish line wins (literally)!!
2) Equestrian Dressage (thank you Stephen Colbert): Horses compete as both individuals – and as teams – in Dressage. Direct translation: Horse Ballet. Need we say more?
3) Rhythmic Gymnastics: One of only two women-only events (the other being Synchronized Swimming), Rhythmic Gymnastics combines gymnastics with hoola hoops, ribbons, and other props – along with routine specific music – what more could you ask for!?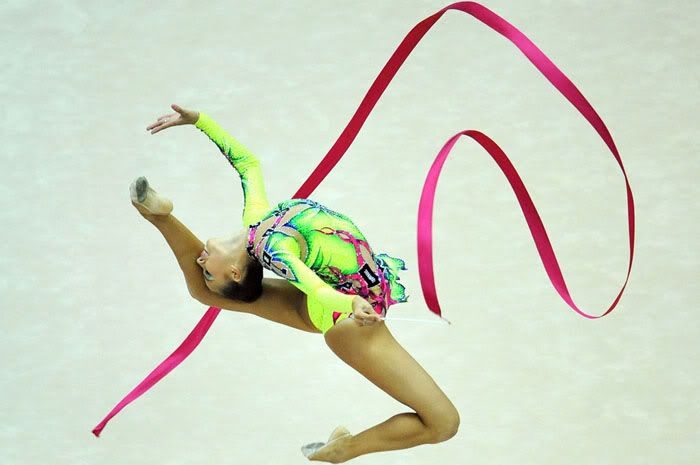 4) Trampoline: We can't wait to watch the Trampoline event – a true ode to childhood! It's one of those events that you'll watch while mumbling the entire time 'I could totally do that if I had a trampoline' (all the while knowing deep down that there is in fact no way you could ever even come close to pulling any of those stunts).
5) Synchronized Swimming: There is nothing more relaxing and refreshing than watching this all-women event – especially given the summer heat and humidity that is bound to ensue!
With the London Olympics just a day away, which events are you looking forward to the most??